Your Conversation Guide
Today's pressures on young athletes are higher than ever. Kids have become so scared to let us down that they are losing the joy a sport can bring, and many are inheriting lifelong impacts to their behavioral health. This conversation is too important to ignore. Use the Conversation Guide below, developed by Blue KC's certified Behavioral Health specialist, to approach your young athlete with care and help find out how they are feeling honestly.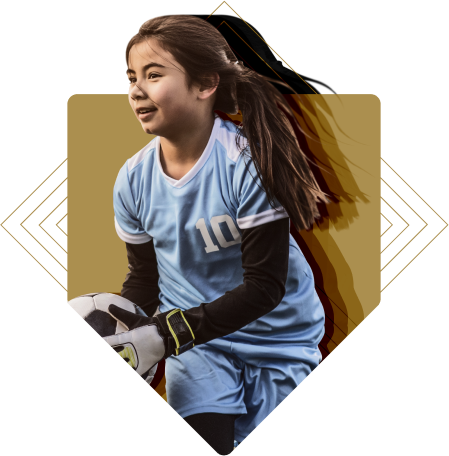 When it comes to talking to your child, take a 7-inning approach to check in, round the bases, and be the support they need to keep sports fun.
Every journey begins with a first step. But taking the first step in addressing an issue is often the hardest one. You have help though. This guide uses stand-alone statements rather than asking questions which can include assumptions.
---
---
1. Say: "I love to watch you play."
This simple phrase is most impactful in the development of young athletes. We may be tempted to incorporate post-game analysis into the ride home, forgetting that our athlete is still a child. When we do this, we begin to chip away at our children's love for the game—and their love for playing.
Well-intentioned and caring adults naturally want to engage their young athlete in conversation on the drive home from a game. You did a great job! The team made a great comeback.
Perhaps we should take a cue from grandparents who radiate joy watching their grandkids running, jumping, laughing and being healthy. They just love to watch their grandchildren play.
---
Go to the Next Inning
Share the Guide:
2. Say: "You showed so much determination out there! Your hard work at practice is really showing."
Praising kids for being smart or being talented sends a message that performance is tied to who they are—that people are either born with skills and talents or not. This thinking reflects a fixed mindset. Those with a growth mindset, however, see challenges and setbacks as opportunities to learn. They see hard work as the key to success.
Young athletes with a negative mindset are more likely to quit when faced with a challenge, believing they are not good enough and no amount of effort can change that.
Those with a growth mindset see challenges and setbacks as opportunities to learn and see hard work as the key to success, with young athletes striving to reach their full potential.
---
Go to the Next Inning
Share the Guide:
3. Say: "I love you." With a hug
Kids need to know that your love is unconditional and not contingent on their performance or the outcome of a game. You demonstrate this by being present and saying, "I love you" with a hug. By conveying this simple message, you grant your children permission to make mistakes, feel feelings, and be themselves on and off the field.
---
Go to the Next Inning
Share the Guide:
4. "Where should we go get ice cream?"
How we respond to our young athletes after a game is critical. Kids look to the adults around them for guidance on coping with disappointment, heartbreak, and even triumph. Though likely unintentional, parents may behave very differently after a win than a loss. Parents, too, have a role in helping kids to let go of poor performances, to keep wins and losses in perspective, and to build resilience in preparation for the next contest.
A win may involve laughter, celebration, and a trip to get ice cream, kids may see this as pride.
A loss may involve a more somber ride home fraught with unsolicited coaching and post-game commentary, kids may see this as disappointment.
Consider establishing a consistent post-game tradition and follow the same plan—win or lose. Make the car ride after the game noteworthy for the heated debate over pizza toppings, not the play-by-play dissection of the game.
---
Go to the Next Inning
Share the Guide:
5. Say: Nothing initially. Let your child initiate conversation after a game.
Give your child time and space to process at the end of a game, win or lose. Resist this urge to talk first and wait patiently for your child to find you.
Be thoughtful and attentive without jumping in unless asked to directly. Weigh in with open-ended questions that will keep your young athlete talking and will guide her to her own answers.
"Tell me more about that"
---
"What do you think about that?"
---
"How do you feel about what happened?"
By building trust and rapport early you will be better positioned to identify and address the more serious issues young athletes may face such as anxiety, depression, burnout, abuse, or substance misuse.
Go to the Next Inning
Share the Guide:
6. Say: "I noticed how you stopped to take care of your teammate who got hurt." Or "I'm proud of how you congratulated the other team after that tough loss."
Participating in sports is about much more than physical activity and competition. Through sports kids learn skills they will carry with them throughout their lives such as: critical thinking, teamwork, perseverance, leadership, discipline, commitment, collaboration, responsibility, and sportsmanship.
By shining a spotlight on good, prosocial behavior and good sportsmanship you increase the likelihood your child will continue these good habits.
Go to the Next Inning
Share the Guide:
7. "What was it like to be on the field today?" or "How did your team make such a big comeback?"
Using open-ended questions encourages children to share their thoughts, ideas, opinions, and feelings. The hours spent driving to and from games and practices offer a unique opportunity to build and strengthen your parent-child relationship and communication.
The key to using open-ended questions effectively, though, is leaving space for your child to respond without interruption or judgment, and making a conscious effort to hear not only the words being spoken but also the overall message.
Pay attention to both your child's verbal and non-verbal cues and do not become distracted by the external environment or your internal thoughts. It is important that you listen to understand your child's hopes and dreams, and what is going well.
It's critical to listen for signs of trouble:
Is your child:
Being bullied or harassed?
---
No longer enjoying the game?
---
Feeling pressure to perform?
---
Feeling overworked or burned out?
---
Experiencing excessive stress?
---
Reporting feelings of anxiety?
---
Feeling overscheduled?
---
More Ways to Keep the Conversation Going:
"Tell me about the game tonight."
---
"What is your new coach like?"
---
"What have you been learning?"
---
"How do you feel about starting a new season?"
---
"What is the hardest part of being on the team?"
---
"How is the team getting along?"
---
"How is your new team different from your old team?"
---
"What went well today?"
---
"What are you looking forward to the most this season?"
---
"What are you looking forward to the most during the off-season?"
---
"If you could do things over, what would you do differently?"
---
Share the Guide: